THE ORGANIZATION
The York County Junior Golf Association (YCJGA) was established in 1980 and officially became a 501(c)3 non-profit organization in 2002. The organization is dedicated to providing kids ages 8 – 18 an opportunity to learn the game of golf, hone their skills, practice in a tour environment and be eligible for scholarships as they age out of the tour or graduate high school.
We provide affordable opportunities for junior golfers to learn the game in a competitive, yet supportive environment, while promoting character development consistent with our core values.
We are committed to upholding the high-quality standards and sportsmanship that are the cornerstones of the game while giving young golfers a summer activity that will advance and enhance their play on their school's golf team and/or give them a better chance of earning a spot on the team.
Our primary focus is providing golf education and experience for York County youths and we do so with a two cornerstone programs:
1) The YCJGA Tour – a professionally conducted series of eight (8) 18-hole tournaments held at different courses in the York area from mid-June until late July. Players compete in 5 different divisions including a 9-Hole division. The tour is open for boys and girls ages 8 – 18. Prizes are awarded for the top 3 players in the 18-hole divisions at each event. Top players have the opportunity to earn a spot at our season ending "Ryder Cup" Tournament.
TOUR SCHEDULE  |  DIVISION DETAILS and REGISTRATION
2) The Next Gen Tour Program – this program is all about Building Golf's Future with Today's Youth for boys and girls ages 8 – 13 just learning the game of golf… The up-and-coming golfers. During this summer golf camp, kids learn from top area golf professionals along with YCJGA alumni. It's a 7-week program with sessions 2x/week. Parents can choose one or both days of the week.
2024 SPONSOR OPPORTUNITES NOW AVAILABLE
Our annual Sponsorship Program provides funding for the promotion, execution, and continuing improvement of professionally conducted tournaments and programs, as well as awarding scholarships to several eligible seniors.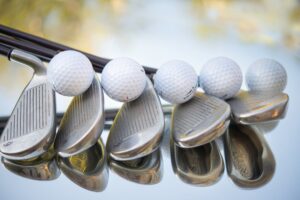 THE BOARD
The York County Junior Golf Association Board of Directors is comprised of local golf professionals and community leaders passionate about giving today's York County junior golfers the education and experience they need to excel in the game of golf.
Each member of the board has "golf in their blood" and are committed to sharing their knowledge and experience in the game of golf with today's youth.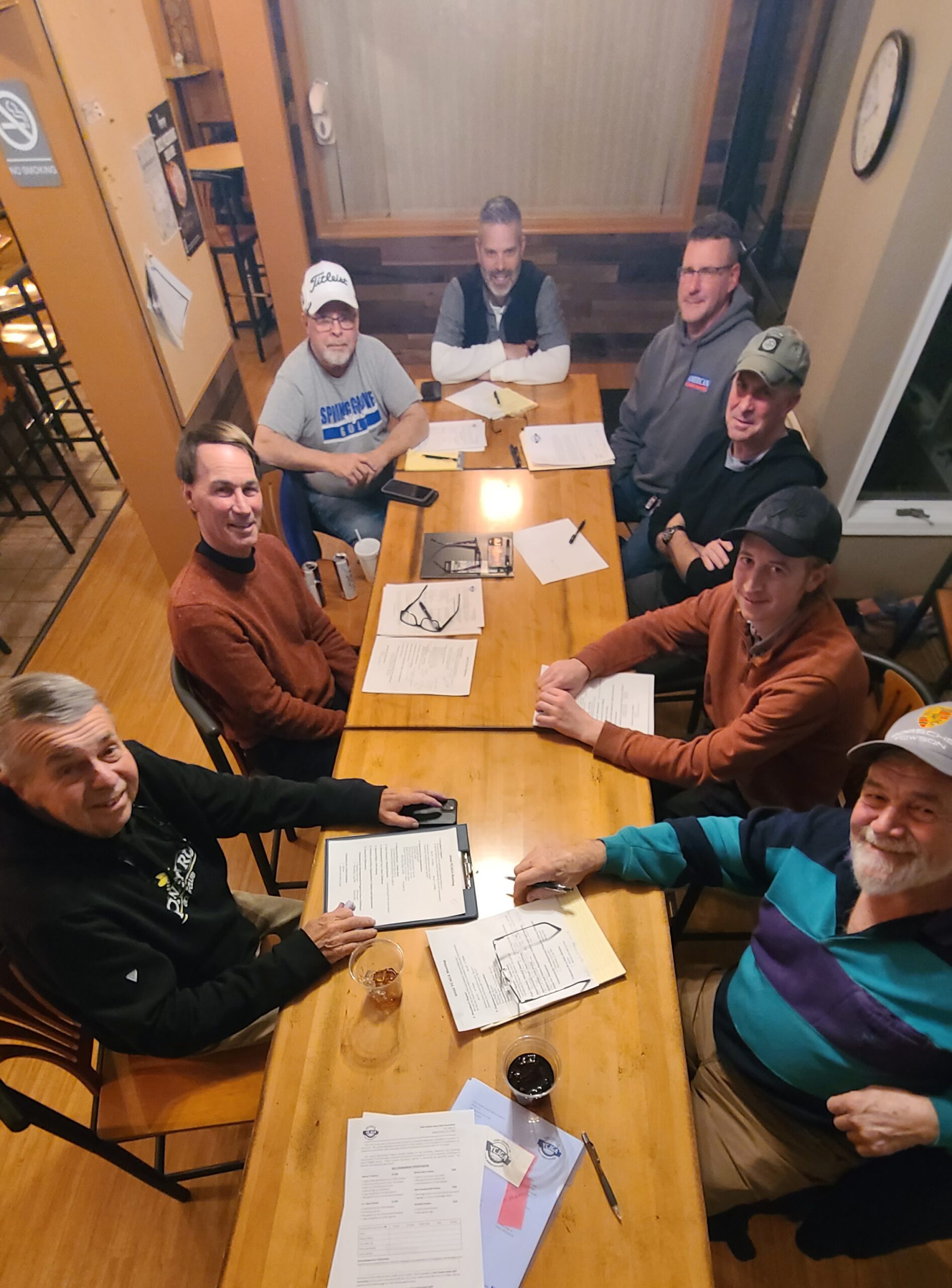 Board Meeting December 2022
Clockwise L to R: Chuck Jordan, Brian Leib, Dave Childress, Justin Ross, John Stacey, Brian Bisacre, Mitchell Beattie, Wayne Jacobs
Brian Leib, President
Head Golf Pro, Hanover Country Club
Chuck Jordan, Vice President and Rules Official
Head Golf Coach, Dover Area High School
Mitchell Beattie, Tour Director
Assistant Golf Pro, Honey Run Golf Club
Former Franklin County Junior Golf Player
Dave Childress, Next Gen Tour Director
Former Head Golf Coach, Spring Grove High School
Brian Bisacre, Next Gen Tour Assistant
Veteran and Gettysburg College Golf Coach
Wayne Jacobs, Rules Official
Former State High School Golf Champion
Shonna Jordan, Marketing and Promotions
San Diego-based Marketing Professional
Business Owner / Entrepreneur
Chuck's Daughter and #1 Fan
John Stacey, Sponsorship Director
Professional Engineer and Golfer
Justin Ross, Treasurer
Local Business Owner and Golfer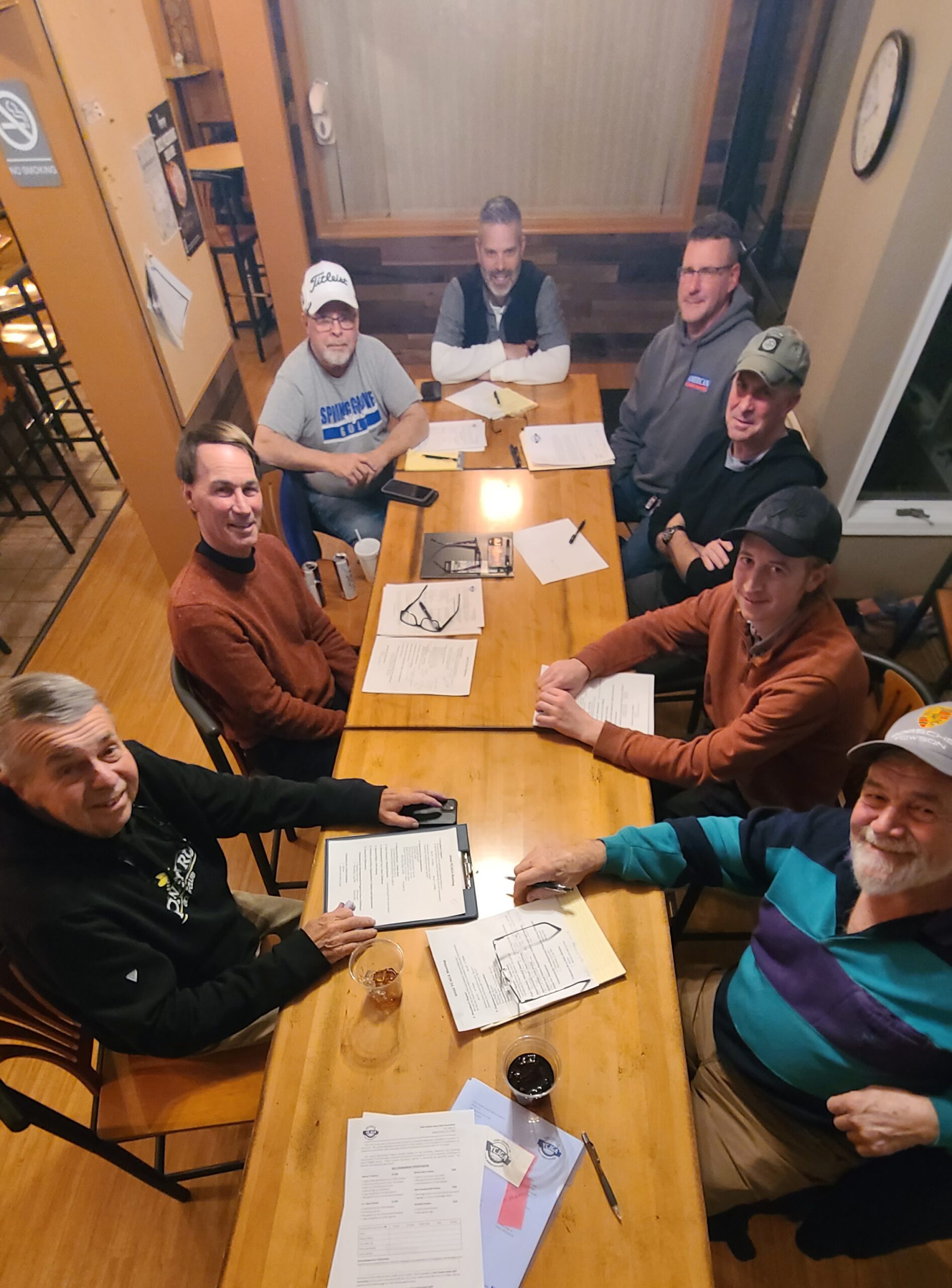 Board Meeting December 2022
Clockwise L to R: Chuck Jordan, Brian Leib, Dave Childress, Justin Ross, John Stacey, Brian Bisacre, Mitchell Beattie, Wayne Jacobs

Brian Lieb, President
Head Golf Pro, Hanover Country Club

Chuck Jordan, Vice President and Rules Official
Head Golf Coach, Dover Area High School

Dave Childress, Next Gen Tour Director
Former Head Golf Coach, Spring Grove High School

Justin Ross, Treasurer
Local Business Owner and Golfer

John Stacey, Sponsorship Director
Professional Engineer and Golfer

Brian Bisacre, Next Gen Tour Assistant
Veteran and Gettysburg College Golf Coach
Wayne Jacobs, Rules Official
Former State High School Golf Champion

Mitchell Beattie, Tour Director
Assistant Golf Pro, Honey Run Golf Club
Former Franklin County Junior Golf Player