CONGRATULATIONS to our 2023
YCJGA SCHOLARSHIP RECIPIENTS!
We will be presenting the scholarshipsto these outstanding young players at the Season End Celebration!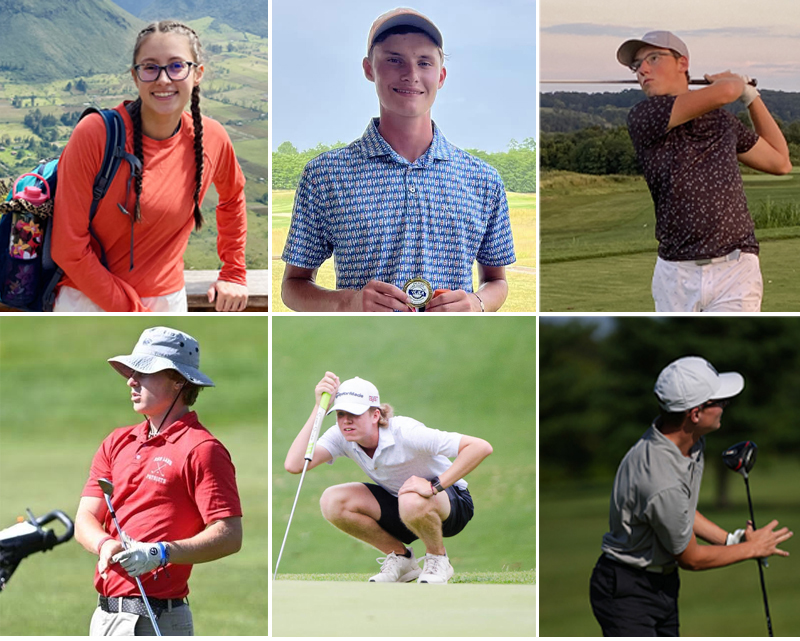 YCJGA Scholarship Applicants (Top Row L to R): Haley Hebel, Dylan Poalucci, Ian Sarosky,
(Bottom Row L to R): Jesse Strine, Ryan Thomas, Trent Uhler.
Scholarship Application Deadline has passed and applications can no longer be submitted.
Thank you to those that submitted applications!
YCJGA is delighted to be able to provide scholarships to graduating players!
Thanks to the generosity of our sponsors, the support from parents, the backing from our communities in York County and the cooperative efforts of the organization and the courses at which we play, YCJGA is honored and delighted to provide financial assistance to deserving graduating player(s) who apply.
In 2022, we were able to award scholarships to:
Sam Elsen, Lillian McNally, Bradin Peart, Cross Santoro and Zach Wilcox.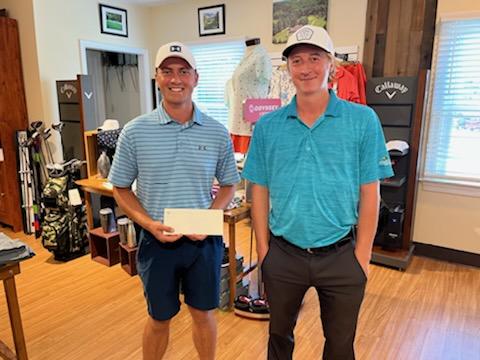 Scholarship recipient Sam Elsen pictured here with YCJGA Tour Director Mitchell Beattie.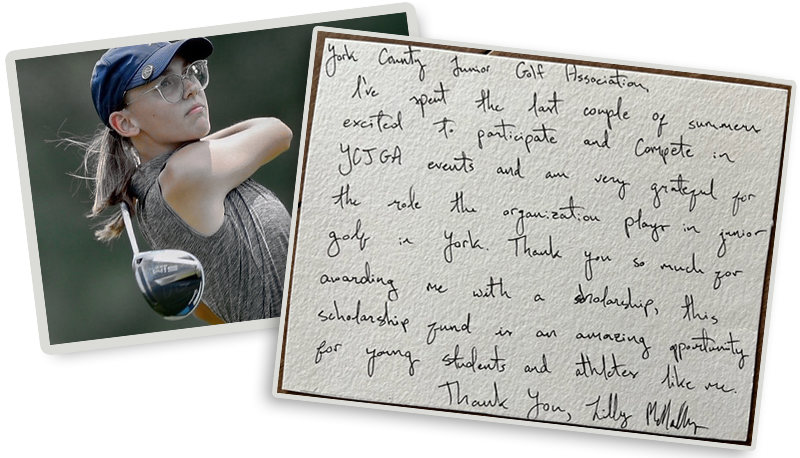 Photo and hand-written thank you note from YCJGA scholarship recipient Lillian (Lilly) McNally. Ms. McNally was also awarded a scholarship from the York County Women's Ameteur Golf Association.
Check out Lilly's Acheivements at LillyMcNally.com
While we'd love to award scholarships to EVERY graduating player who applies, depending on sponsor contributions and players on the tour, we may have to limit the number and amounts of the scholarships. The Board reviews the scholarship applications and chooses from one to several scholarship recipients and the amounts for each based on funds available.
YCJGA Scholarship Applicant Information
DEADLINE: Applications must be submitted online by 4 PM Friday, July 21, 2023.
Eligibility: To be eligible to apply for a YCJGA Scholarship, applicants must:
Have participated in the YCJGA program for a minimum of two seasons playing in at least 4 of the 7 events/tour dates.
Be enrolling in a post-secondary educational institution for the 2023 – 2024 academic year.
Selection Procedure: A committee of YCJGA board members will be responsible for scoring the applications as well as determining the number of awards and the dollar amount of each award. NOTE: Board members with a son/daughter or any family member applying for the scholarship are recused from participation in the selection process.
Scoring: Applications will be scored in four (4) parts:
40% Golf Accomplishments
25% Academic Achievement
25% Extra Curricular and Community Service Activities
10% Written Essay
Instructions: Applicants must complete all questions on the application. We recommend preparing answers ahead of time to be able to copy and paste directly into the online application form and encourage applicants to describe their accomplishments completely. Don't be shy about your acheivements!

Questions about the scholarship program should be directed to Tour Director Mitchell Beattie at [email protected].
APPLICATION QUESTIONS: In addition to providing your contact info and other "about you" information (like age and school), you will be asked the following:
List at least three (3) junior golf and high school golf achievements including any awards you have earned.
Share your GPA and the point scale upon which it is based.
List your Academic Acheivements and awards (e.g. Honor Roll)
Describe your career aspirations and how your education will help you reach your goals.
List extra curricular and community service activities (e.g. school activities, work history, leadership positions, volunteer service, community projects, etc.)
Essay (400 words or less) 2 Parts
1) Describe lessons you have learned as a participant in YCJGA which you feel have enhanced/affected the development of your personal character and the values by which you live your daily life.
2) Name another YCJGA tour player (past or present) that you particularly respect and/or admire and describe why.
WHAT TO EXPECT AFTER COMPLETING YOUR APPLICATION: 
You will receive a

confirmation email with your completed application

answers/responses for your records. This confirmation will be sent TO THE EMAIL YOU ENTER ON THE FORM. Please be sure the email is correct before submitting and if you don't see the confirmation email in your inbox within a few minutes, please check your junk/spam folder. The email will come from

[email protected]

.
We'd love to include a photo with your application, so please reply to the confirmation email you receive with a photo (or two) of your choice. This can be your high school senior picture, a candid photo of you, a photo of you playing golf, etc. Photos should be JPG files with high resolution (300 dpi) and should be ONLY of YOU (i.e. no other people in the photo). This is OPTIONAL, HOWEVER, if awarded a scholarship, the photo area on the "Scholarship Recipients" post will be left empty. Will will not take or hunt down a photo to use. By submitting your photo(s), you are giving permission to YCJGA to use it/them per the Photo Release Document.
As noted, the application deadline is Friday, July 21, 2023. There are no exceptions as the YCJGA Scholarship Committee will meet to score the applications and make selections the week of July 23rd. If awarded a scholarship, you will be notified by email by Friday, July 28th and and should plan to be at the season end scramble on Saturday, July 29th.